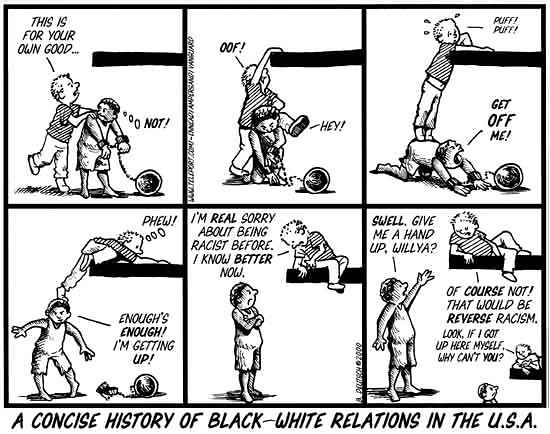 I figured I would head off with this image because it's appropriate to the discussion, even though Judge Sotomayor is Latina. The hubub around her completely out-of-context statement that "I would hope that a wise Latina woman with the richness of her experiences would more often than not reach a better conclusion than a white male who hasn't lived that life," doesn't only ring true, but the fact that it's triggered the standard right-wing "must defend our white privilege at all costs" response is laughable. "It's reverse racism!" they cry, "She's discriminating against white people!" they say. Every time I hear someone even remotely seriously saying it, it makes me laugh.
But frankly, this is all part of the "new racism." The kind that's quiet, spoken outwardly only in safe company of like faces-and minds. The kind that supports the good old boy's network at all costs, the kind that treats up and coming smart Black businesspeople like children while simultaneously telling them that this is good for them, the same kind of racism that forces white Americans to fiercely deny racism even exists and that instead minorities just "play the race card" too often.
Of course, it's all distractions from the point, and denies the fact that the so-called "race card" doesn't even exist.
What the ongoing attack on Judge Sotomayor suggests is that the public morality of American life and social policy regarding matters of racial justice are increasingly subject to a politics of denial. Denial in this case is not merely about the failure of public memory or the refusal to know, but an active ongoing attempt on the part of many conservatives to rewrite the discourse of race so as to deny its valence as a force for discrimination and exclusion either by translating it as a threat to American culture or relegating it to the language of the private sphere. The idea of race and the conditions of racism have real political effects and eliding them only makes those effects harder to recognize.
Politics of denial – that's an excellent way of putting it. So what do we do?
Bob Herbert has recently responded to the attacks on Judge Sotomayor by arguing that:

Here's the thing. Suddenly these hideously pompous and self-righteous white males of the right are all concerned about racism. They're so concerned that they're fully capable of finding it in places where it doesn't for a moment exist. Not just finding it, but being outraged by it to the point of apoplexy. Oh, they tell us, this racism is a bad thing! Are we supposed to not notice that these are the tribunes of a party that rose to power on the filthy waves of racial demagoguery…. Where were the howls of outrage at this strategy that was articulated by Lee Atwater as follows: "By 1968, you can't say 'nigger' – that hurts you. Backfires. So you say stuff like forced busing, states' rights, and all that stuff."(9)

Herbert is only partly right on this issue. The right-wing attack on Sotomayor is about more than "the howling of a fading species." It is about how racism takes on different forms in different historical contexts and the need for it to be challenged critically and politically. Of course, Herbert is correct in suggesting that the conservative appropriation of the new racism is not just disingenuous but hypocritical, and that even a minor lesson in history reveals the bigotry behind the strategy. But he is remiss in not suggesting that we actually take up the discourse of the new racism and do it in ways that give it real meaning and substance, so it can be both easily recognized and politically challenged in terms not set by conservatives.
Frankly, I'm more with Herbert on this one, but I see the need for dialogue. At the same time, we need to shine the light on this denial and selfish clinging to privilege first, call it out for what it is, and then we can all sit down like nice and we can explain why the conservatives are wrong on this one – much like they are on everything else.
[ Judge Sonia Sotomayor and the New Racism: Getting Beyond the Politics of Denial ]
Source: Truthout